London is a city that's great for basically everything. Museums, historical sights, churches, food, and of course, shopping! During my semester abroad I indulged in a little more retail therapy than I probably should have given the exchange rate, but it's just so hard when there's SO much to shop for! Not to mention, so many great areas to explore and shop at. From my four month long exploration, here are just a few of my favorites:
King's Road, Chelsea:
The stomping grounds of London's rich and famous, King's Road is legendary for retail indulgence. Highlights include Peter Jones, a chic department store near Sloane Square, and Bluebird, a store, restaurant and cafe on the western end of the street (a hotspot for the cast members of Made in Chelsea), whose expansive store interior carries trendy designer duds. Along the road, you can catch all your London favorites, including a massive Jigsaw, Jack Wills, Hobbs, and of course, Boots. Come to King's Road for a day of shopping with a great lunch nestled in between. But be sure to stock your wallet chock full beforehand -- Chelsea can get expensive. It wasn't Kate Middleton's former home for nothing!
TUBE:
Sloane Square (District and Circle lines)
High Street Kensington:
Near Chelsea and a stone's throw from Kensington Gardens is the beautiful borough of Kensington, one of my favorite spots in London. High Street Ken is your typical London high street, lined with many of my favorite UK chains. A multi-level Topshop, Neu Look, Marks & Spencers, Jigsaw, Uniqlo LK Bennett, TK Maxx, as well as some familiar names to Americans: H&M, Zara, Gap and Urban Outfitters. Grab lunch at My Old Dutch for scrumptious, plate filling pancakes or one of my favorite London chains, Giraffe. Perfect for a quick afternoon of shopping to hit your favorite shops.
TUBE:
High Street Kensington (District and Circle lines)
Angel, Islington:
A five minute walk from my flat, Angel was an area I frequented quite a bit over the course of the semester. There's lots of familiar chains in Angel: Jack Wills, Oasis, etc. However, Angel does have two stand outs: vintage shops and massive grocery stores. Off Islington High Street lies a huge Sainsbury's, Waitrose, Marks and Spencers and Boots. While they don't offer much in terms of style, Angel is definitely worth a stop for a fridge stock up. And tucked away in an adorable cobble-stoned alleyway, Camden Passage, which runs parallel to the high street, is a multitude of vintage and antique shops carrying styles and items from years ago. Angel's also great for restaurants, pubs and bars, so start late, grab dinner and stay into the night.
TUBE:
Angel (Northern line, Bank branch)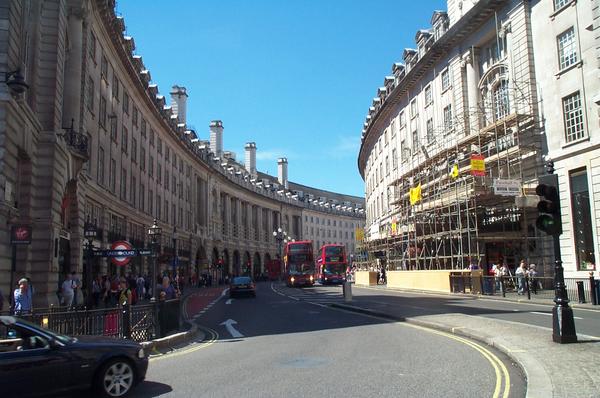 Regent and Oxford Streets:
If you're looking for the Fifth Avenue of London, find it on Regent and Oxford streets smack dab in the middle of central London. Find every UK chain you could ever desire here, but to the Nth degree: stores on these streets are simply bigger and better stocked than anywhere else in London. Zara, two H&M's (their newest flagship just opened on Oxford Circus), Mango, Barbour, Apple, Monsoon, Ted Baker, Niketown, COS -- the list goes on forever. Must visit's are Liberty, London's first department store, which is located inside a gorgeous building that almost resembles an English country manor. The flagshop Topshop is also located in Oxford Circus, and has to be one of the best stores in London. There's a salon, a froyo shop, a cupcake stand, not to mention clothes, bags, accessories and shoes galore for both men and women. Definitely worth a visit while in London, because Topshop doubles their UK prices in their US stores, making prices actually cheaper while shopping in the UK! Beware of Regent and Oxford streets crowds however -- there will be a lot of pushing and weaving in and out of groups of tourists to get your shopping done.
TUBE:
Piccadilly Circus (Piccadilly and Bakerloo lines), Oxford Circus (Central, Victoria and Bakerloo lines)
Bond Street, Mayfair:
Nestled on the eastern border of Hyde Park, Mayfair is another spot that's great for seeing celebrities (a friend saw Pippa Middleton in Mayfair during the semester!). Near the bustling Oxford Street is the designer haven, Bond Street. Find all your favorite designer shops here, as well as one of London's most famous department stores, Selfridge's. It's a quick walk to Bond Street from Oxford Street, so be sure to hit all three in the same day (if your feet -- and wallet, can handle it).
TUBE:
Bond Street (Central and Jubilee lines)
Covent Garden:
Home of the famous Royal Opera House, Covent Garden was near my school and I would often visit on breaks from class. At the center of Covent Garden is the Piazza, which is filled with little shops and stands, with the jubilee market just across the way. Here you can get food, jewelry, bags, among other items (soon to be home to London's first Shake Shack!). Lining the streets around the piazza is lots of London staples - Zara, Ray Ban, Monsoon, etc. Covent Garden has lots of great eats too, so head around there for dinner. Tip: my favorite cupcakes from Primrose Bakery are on Tavistock street, just south of the piazza.
TUBE:
Covent Garden (Piccadilly Line), or a quick walk from Leicester Square (Piccadilly and Northern lines)
Knightsbridge
: I saved the best for last. While Brompton Road is lined with every high street chain you could ever need and more: Topshop, Zara, H&M, Gap, COS, Accessorize, not to mention the pricier shops: Lacoste, Burberry, Hobbs, Jigsaw, among others. However, Knightsbridge's stand out attraction is the department store to end all department stores: Harrod's. Whether you're going to restock your closet with designer fashions, refurnish your home, or to indulge in one of their many culinary experiences: typical British high tea at the Tea Room, delectable ice cream sundaes at the Ice Cream Parlour (beware, nearly 20 pounds a pop), not to mention the expansive food halls in the basement. Even if you're just browsing, shopping at Harrod's is an experience in itself. If you're looking for a less tourist packed experience, try Harvey Nichols a little further east down Brompton Road, which is equally luxurious and caters to London's high social set.
TUBE:
Knightsbridge (Piccadilly line)
LIKE collegiate chic on Facebook